All posts
Not in the mood for care today
Badrieh Wanli, is an artist, mother of two and student. In her everyday life in Hamburg Altona, she fights for a new understanding of gender and more space for herself.
2022-07-05 - Menschen Orte Fahrräder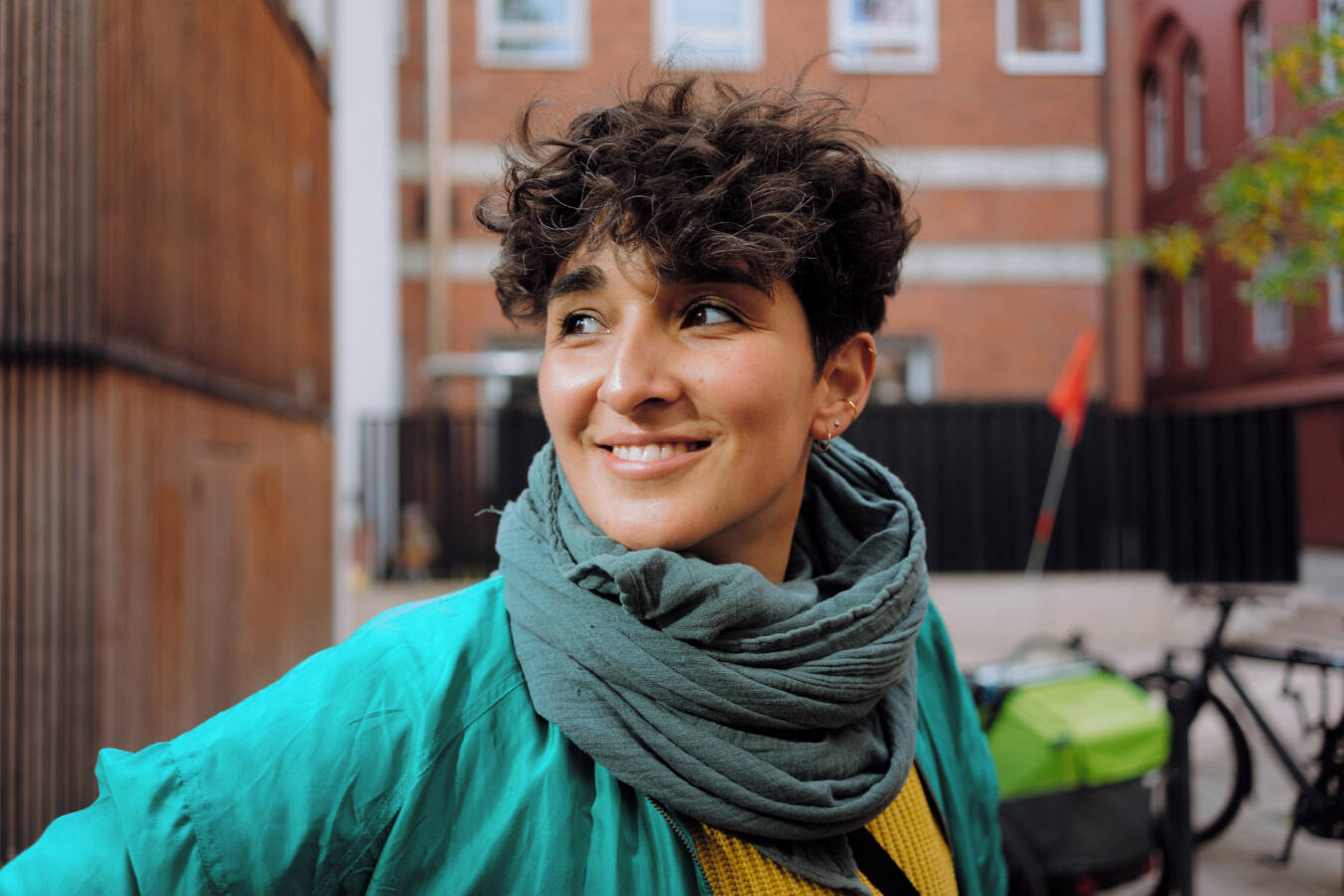 Hey Badrieh, who are you, what do you do?
I used to study acting, I'm a student and a mother - but actually, when I was asked this question, I wanted to go straight to answering artist. I should start believing that myself.
What's stopping you?
The deal with my father was to do "something real" after my acting training. I studied liberal arts in the bachelor's degree and teaching in the master's degree. During that time I had my two children, I could hardly stand relying financially on my art alone - capitalism, you know. That's how I ended up studying to be a teacher. Art and German, I'm finishing that this year. Art holds everything together to this day, it runs like a thread through my life.
How would you describe your art?
I make media art, documentary and essayistic short films especially. The crazy thing: I sometimes try to make films about others, but I end up realizing that they are mostly films about myself. I'm talking about something from a very specific, my personal position - and maybe others can connect to that. Or maybe they can't. Very autobiographical. Me as a woman, my body as material, that always plays a role.
During the pandemic, you did the podcast Muttivation 2.0 with a friend. Is that also part of your introspection?
Parents and especially mothers were completely lost during Corona. But the project was mainly about questioning gender roles, old patriarchal structures that automatically come back into our lives as soon as we become mothers. This naturalization of gender, the responsibility of the mother because she had the child in her body - that's all too easy for me. I see it as my task to work forever against these stereotypes and rusty structures.
Has anything changed yet?
After my first child, I was very shocked by this "there's hardly any room left in me for myself". That faded into the background a bit with the second child. Because my boyfriend was suddenly equally challenged to take care of our first child. My boyfriend is a camera assistant and works spontaneously and rather flexibly according to bookings. When he's not on the road, he has no work - it's different for me, because there's always something to do. But it's spread out better today than it was a few years ago.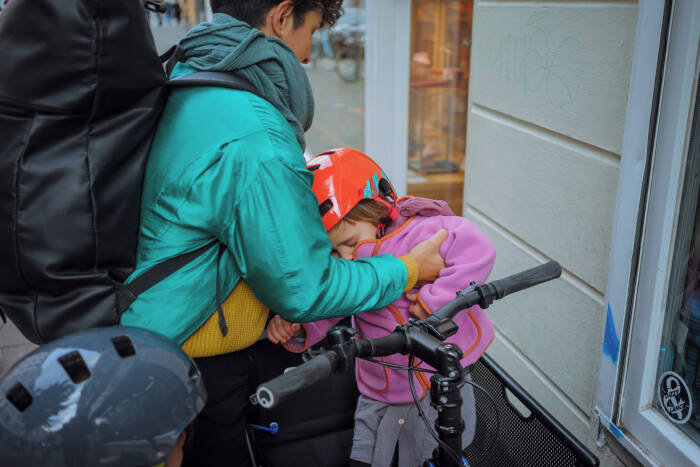 How do you organize your daily lives?
Hamburg Altona has been our center of life for several years: the Schatztruhe daycare center, my studio in Schomburgstraße and our apartment in Harkortstraße, everything is close together. We don't want to leave here anymore. Other parents have become our friends, my most important allies in the urban jungle. We organize our lives together, rarely just picking up our own children at daycare, going shopping, and meeting at playgrounds or on the Elbe beach. I just love driving into Ottensen and knowing that someone is always there for me. For me and the kids.
Do you have a car?
Yes, but we only use it when we go to my parents on the outskirts of town in Großhansdorf in Schleswig-Holstein, where I grew up. In our little universe, we make every trip with the muli motor. I have had a total of three mulis stolen. With each theft, I got high - now I don't want to miss the pedal assistance.
You have been a muli rider from the very beginning. What has changed?
I have changed. In Großhansdorf I had my own car. The distance to the open-air swimming pool in Großensee - I preferred to be cool and pick up my friends in the car. In Altona today, a car only means stress when looking for a parking space or costs for the garage and gas. These are all resources we need for our family. There is now the first bike route directly through Altona, and some bike paths have been repaired. Not only the muli grows with us. Also the city.
What do you wish for the next few years?
I want to be able to say more often when I don't feel like caring. I want care work to be seen as equal to paid work. I want more space for myself again - without having to give up my role as a mother, without part-time work and poverty in old age. Maybe I also want a third child one day. The most important thing is that we all continue to develop. That we don't stand still.
Thank you for the interview!
More about Badrieh at: badriehwanli.com | instagram.com/badrieh